-The following is a list of the Top 10 films of 2016 through the first half-year.
As we head into the heat of summer with blockbusters (plural) coming out every single weekend, Blended Opinion's Matt Flynn has decided to rank the Top 10 Films of 2016 at the half-way point. Films are graded partially on objectivity, based on acting, production, directing, and screenplay writing, while also being given weight based on their subjectivity of the critic: how re-watchable they are, and how fun the experience is to see the films.
As expected, it's not possible to see every release as it comes out, so the following are some films that could make the list but weren't viewed in time: The Invitation, Me Before You, Swiss Army Man, Money Monster, The Mermaid, and Triple 9. 
We hope you enjoy the list, and feel free to comment with your picks. If there is a film that you think is missing, just ask in said comments section, and we will respond as to what we thought of it, or whether or not we were able to view it in time. All films were released from the beginning of January to the end of June in the United States, foreign film festivals do not count until they get on-shore treatment.
---
Let's begin with some honorable mentions:
Honorable Mentions: 
-I'm sure it's a little surprising to see a top 10 list for 2016 not include Civil War, Deadpool, or The Jungle Book, but there are, in my mind, ten films that stand out above the rest, and this group is just slightly behind.
Captain America: Civil War is clearly an achievement, a wondrously perfect summer experience for people who enjoy the Marvel Cinematic Universe and what it has to offer. There were multiple scenes that could not possibly happen in any movie other than this, but it suffers from the same flaws as its brethren as well, including lackluster villain motivation and a smug attitude of assumed comedy.
Deadpool is a unique case for the hero genre, as it's definitely one of the funniest and most violent outputs that we've seen, bolstered by a career-best Ryan Reynolds. Every bit of story about Deadpool and his change into becoming a crazed vigilante is wonderful, but once a villain and third party X-Men get involved, things kind of come off the rails.
Demolition remains extremely underrated, the newest film from Academy Award seeker Jean-Marc Vallee. It shows grief in a very honest narrative, letting us learn a ton about a very intriguing Jake Gyllenhaal character. The movie really allows for a good dose of empathy, but misses its ability to be at the same quality of Wild and Dallas Buyers Club due to some occasionally unnecessary subplots.
The Jungle Book is an achievement in CGI from director Jon Favreau. The motion capture performances and the sense of adventure from deep within the jungle make for a transporting and fun experience that left me completely awestruck. However, it overstays its welcome in the final act and is bogged down by a very weak live action performance from the Mowgli actor. It's a shame that a film that looks so great feels a little empty once it's over.
Knight of Cups is going to be a divisive pick, and not just because of potential readers, but from this list maker as well. Considering the two years that I waited, and waited, and waited for this new Terrence Malick experimental drama to come out, starring my favorite actor Christian Bale, it would be hard to completely reject the film. While it does drag, and often feels like a slog through unnecessary, pretentious monologuing, the film does drip with wonderful subtext about a broken man traversing through the heart of Hollywood. Every character gets a twenty minute focus in different chapters named after Tarot cards that mean something to the character. It's unique as can be, but it's just not all that exciting.
Mr. Right is an action comedy that puts Anna Kendrick in a kick-ass role, how can one not be at least a little amused? When assassin Sam Rockwell reveals that he's being hunted by the U.S. government, little Kendrick decides instead to team up with him, and riotous entertainment ensues. This is a very, very stupid movie, but I laughed throughout its entirety, and would watch it multiple times based on sheer absurdity.
I'm putting Love & Friendship last on my honorable mentions list because it was, by far, the hardest to leave out of the Top 10. Consider it a tie with the film that is listed at the tenth spot, but Love & Friendship is a very sophisticated style of comedy. Based on a Jane Austen novella set in the late 1700s, we get to see a special kind of femme fatale (an excellent Kate Beckinsale) lie and cheat her way through multiple stuffy English families, consistently scoffing at their elegance while also trying to set up her hopeless daughter with a rich suitor. It's an indictment on pretentious culture, and offers a great transporting, scenic experience in the costumes and setting, while also consistently making the audience members laugh.
---
Director: Luca Guadagnino…Genre: Thriller (Erotic)
Starring: Tilda Swinton, Matthias Schoenarts, Ralph Fiennes, Dakota Johnson
-Set on the sea isle of Pantelleria, a Bowie-esque rock-star (Tilda Swinton) recovers from vocal chord surgery with her cameraman boyfriend (Matthias Schoenarts). When her old flame/record producer (Ralph Fiennes) comes to visit with his sexually charged daughter (Dakota Johnson), unions become cloudy and intentions even cloudier.
While the scenery alone would be enough to recommend this movie, it's really anchored by the foursome of actors who comprise the lead performances. A complicated Schoenarts performance plays off of a nearly silent Swinton, who can play any mysterious role with a chilling realism. When their vacation is interrupted by the pompous Fiennes, he begins to take over every scene with his wild personality and relentless courting of his old girlfriend in Swinton. As frustrations boil over between him and Schoenarts, a sexy Dakota Johnson begins her own seduction as well, taking the movie by the horns and reminding us that she's a young star with a large career ahead of her. We realize that the film is "off" for the first two acts during the run-time, but it isn't until the end events where we understand how the tension pays off. This is a very mature movie for adults who appreciate an understated, gorgeous thriller.
---
Director(s): The Coen Brothers…Genre: Comedy (Spoof)
Starring: Josh Brolin, Alden Ehrenreich, George Clooney, Channing Tatum, and Tilda Swinton
-A Hollywood Fixer (Brolin) attempts to save the reputations of his film studio's clients after several crazy things happen in the span of a week, including a kidnapping of the studio's largest star (Clooney) by the Hollywood Ten.
The Coen Brothers finally decided to take a break from the darker sequence of films of theirs that had been coming out and go back to their absurdist comedy roots. Although it's not going to contend for any Oscars, the spoof comedy in Hail, Caesar is very well-realized, making fun of the outdated style of Hollywood film studios. For those who are not interested in this type of film, they may feel left behind by the inside comedy, but for frequent film-goers, this will feel like a very strategically placed mocking of the sequel-heavy movie industry. Clooney is great in this, Brolin is sturdy (as usual), Ehrenreich has a break-out performance, and it's always nice to see the likes of Channing Tatum, Jonah Hill, Frances McDormand, Scarlett Johansson, and Tilda Swinton appear in bit parts. This may be a long-forgotten moment in the Coen Brothers' outstanding filmography, but it's damn enjoyable.
---
Director: Christian Ditter…Genre: Romance (Romantic Comedy)
Starring: Dakota Johnson, Rebel Wilson, Leslie Mann, Alison Brie, and Anders Holm
-When a college graduate (Johnson) ends her four year relationship with her college boyfriend (Nicholas Braun), she heads to New York as a paralegal and teams up with co-worker/best-friend (Rebel Wilson) to find herself.
The critics missed the mark on this average-reviewed feminist comedy. The entire film was marketed as just that, a feminist movie about loving yourself and four women who enjoy the single life, a shameless plug on the emphasis to combat long-term romance schlock like Nicholas Sparks. The good thing is, the film isn't that at all, and the progressive, sheep-herd critics decided that without that emphasis, the movie couldn't possibly be good. In reality, it's a story about relationships, how we reunite, break-up, go from one to other, and etc. These four women meet and date many men over the course of this film's trajectory, and it's extremely realistic when it comes to how things work and don't work. The ensemble cast is funny, down to earth, and the film is very insightful about the stress of meeting/not meeting someone. It's a delight to watch.
---
Director: Robert Eggers…Genre: Horror (Supernatural)
Starring: Anya Taylor-Joy, Ralph Ineson, Kate Dickie, Harvey Scrimshaw
-A disgraced New England family moves out of town and begins experiencing horrifying events, possibly related to a coven of witches beyond the dark forest of their property.
It was really exciting to hear about a new horror film being distributed by A24 after their year of Locke, Enemy, and Under the Skin back in 2014, and I have great news: The Witch is a return to that form. In a very sadistic, sad, and on two occasions, overwhelmingly scary movie, director Robert Eggers has made a supernatural horror film that doesn't rely on jump scares or silly ghosts. What they realize with The Witch is that constantly flinching due to loud noises or un-scary lack of payoff deflates the film's tension, rather than it being a battle between the audience and the film's environment. Eggers knows environment, and he makes his characters entirely helpless against the forces around them, with only their (failing) faith to help. There's one scene that happens in the woods that made every hair in my body stand-up, and Eggers gets a great performance out of a young actress by the name of Anya Taylor-Joy, who could eventually be much bigger than this little indie-horror hit.
---
Director(s): Byron Howard, Rich Moore…Genre: Family/Animation (Comedy)
Starring: Ginnifer Goodwin, Jason Bateman, Jenny Slate, J.K. Simmons, and Idris Elba
-When a rural-town bunny (Goodwin) decides to pursue her dreams of being a police officer in the all-inclusive Zootopia, where prey and predators live in harmony together, she and her new fox friend (Bateman) uncover a nasty subplot of predators randomly reverting back to savage territory.
Forget Finding Dory, Zootopia is the animated gem of 2016 thus far, an inclusive, socially-driven buddy cop comedy in an animated format. It's so clever that the people it's singeing with satire will laugh along with it before realizing that they are the ones being made fun of. With a very interesting, mystery oriented, plot, the audience will be consistently engaged as the film flirts with various topics of political/social relevance. Rather than feel ham-fisted, it keeps us laughing and entertained in the best way that an animated/family film can. I watched it a second time to make sure I wasn't overrating it, but Zootopia may be the best animated film since Toy Story 3 in 2010, and that includes Anomalisa, The Wind Rises, Frozen, Finding Dory, and Inside Out. Yeah, it's that good.
---
Director: Richard Linklater…Genre: Comedy (Observational/SitCom)
Starring: Blake Jenner, Zoey Deutch, Ryan Guzman, Tyler Hoechlin, and Will Brittain
-Getting ready for college doesn't involve living supplies or school books for this riotous baseball team. No, instead in involves a week of non-stop partying, arguing, and rough housing before their semester starts; told through the eyes of Freshman first-timer Blake Jenner.
Advertised as the spiritual successor to his 1993 film Dazed and Confused, director Richard Linklater has went all-out comedy for his new indie charmer. After spending 20 years on Boyhood and about as much on the 'Before' trilogy, it's nice to get a fun little place holder in his filmography, much like the wacky 2011 film Bernie. Linklater loves playing with time, either crafting projects that take years and years to complete or instead trying to do a small-scale look at the feel of an era, and although I wasn't alive at the time, this seems like a pretty damn accurate representation of 80s college life. Every character (there's like 15-20) has their own personality, wants, desires, and comedic style, and then, a touching romance appears between Jenner and young actress Zoey Deutch. It may not be ground-breaking, but you can't help but smile for all 2 hours of its run-time.
---
#4. 

The Neon Demon 

(Review Forthcoming)
Director: Nicolas Winding Refn… Genre: Horror (Psychological)
Starring: Elle Fanning, Jena Malone, Karl Glusman, Abbey Lee, and Keanu Reeves
-An aspiring teen model (Fanning) heads to Los Angeles to pursue her career, catching role after role for her youthful innocence, much to the annoyance of the older, more experienced models in the circuit.
I made sure that I went to see The Neon Demon before compiling this list, because a top ten list couldn't be complete unless you at least gave Nicolas Winding Refn a chance to make it. Refn is best known for his 2011 masterpiece Drive, one of the quintessential contemporary films, but he also has been divisive since then, with middling reviews for the obsessively violent Only God Forgives and now this. It'd be silly to recommend this movie to everyone in the same way that you would recommend some of the other notable releases on this list, but that doesn't make The Neon Demon any less gorgeous and nearly flawless. With Fanning as his muse, Refn crafts one of the most pristine looking films of recent memory, telling his story through visuals and small-scale acting cues instead of relying on a traditional plot to tell the story. While a lot of what he's trying to say can be left to interpretation, just know that this occasionally spooky, sexually driven, psychologically relentless film will stay in your head long after the end credits.
---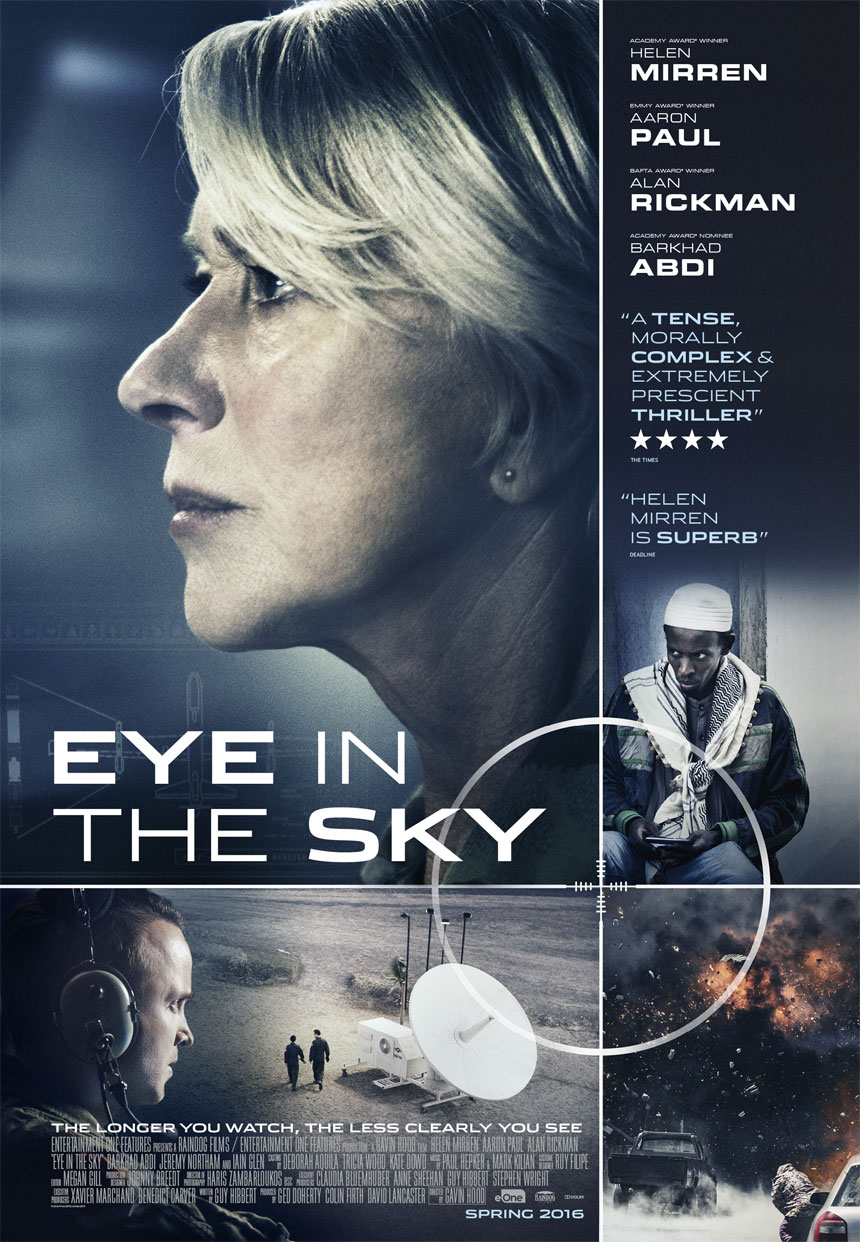 Director: Gavin Hood… Genre: War (Thriller)
Starring: Helen Mirren, Aaron Paul, Alan Rickman, Phoebe Fox, and Barkhad Abdi
-When the British Government gets the location of a wanted terrorist, politics ensue while different representatives must decide whether or not hitting the location with a drone and getting their guy is worth the collateral damage associated with it.
-Talk about a timely war film. While the genre tends to look back at previous wars (sometimes over a hundred years later) with this nostalgia for the cause, occasionally you get a politically charged film that attacks the methods currently being used, such is the case with Eye in the Sky, the rebound magnum opus for hit-or-miss director Gavin Hood. The entire run-time focuses on one drone strike, and whether or not it should be cleared depending on the innocents who die in the crossfires. I adore taut thrillers like this, and I was riveted from start to finish, especially due to solid performances from Mirren, Aaron Paul, and the late Alan Rickman, who commands the screen following his tragic death. This is not a film that many saw, and it's not a film that generated the kind of controversy that was necessary for the message, but it exists just the same as a damn good war thriller.
---
Director: Shane Black…Genre: Comedy (Buddy Cop)
Starring: Russell Crowe, Ryan Gosling, Angourie Rice, Margaret Qualley, and Kim Basinger
-When the LA porn industry has a mishap and the death of a few notable figures, two rival investigators turned friends (Gosling and Crowe) team up to find out what the fuss is about.
-I love this movie, and was between this and the 3rd ranked film to put at number 2, but decided that I was way more likely to watch The Nice Guys for a third time as opposed to Eye in the Sky for the second, thus the situated rank. Shane Black is hit and miss for people, because his style is very flamboyant, and that definitely doesn't change with this film, but considering I actually liked Iron-Man 3 (check out our MCU ranking on the site), I was very prepared to love The Nice Guys, and I did. Ryan Gosling is one of the modern age's best actors, going from dry and mysterious to romantic and suave without any kind of problem, but here, he definitely plays a goofier character than ever before. With his hysterics playing off of the down-to-Earth bad-ass Crowe, their chemistry just leaps off of the screen, making the overall enjoyable qualities of this movie rip to shreds any complaints about a messy plot. Who cares about plot when you can watch Ryan Gosling drunkenly do detective work?
---
Director: Yorgos Lanthimos…Genre: Comedy (Absurdist)
Starring: Colin Farrell, Rachel Weisz, Lea Seydoux, Ben Whishaw, and John C. Reilly
-In a dystopian world where it is illegal to be single, a cuckolded man (Farrell) checks into the ruthlessly managed match-maker hotel, where you have 45 days to find a permanent partner before being forced to turn into an animal.
It wasn't even close for the number one slot, as The Lobster is the only true masterpiece to come out so far in 2016. While the film does manage to craft great characters, it's the dead-pan, absurdist nature of the comedy that carries the film, as it completely takes down marriage culture and date culture in the modern age. Every line is so silly, always said with a completely straight face to the point where the events of the film become very chilling and disturbing, but also remain extremely silly and worth the uncomfortable feeling in your gut. Farrell is arguably a career best here, and so much happens in this film that I don't want to spoil. Going in almost blind will help add to the unsettling comedy that comes out of the amazing world-building that is presented here. I'd be happy if I get a film in the next six months that even challenges The Lobster for the top spot.
---
-Thanks for reading, be sure to keep up with written content and the Reel Talk podcast on here or on Soundcloud. Feel free to comment your Top 10 films of the year so far!